The remote and undeveloped islands and coastline of the Cedar Keys and Lower Suwannee National Wildlife Refuge offer truly rewarding, year-round birding opportunities. 
Because of the remoteness and inaccessibility of our islands and coastline, most of our best-viewing sites can only be accessed by boat.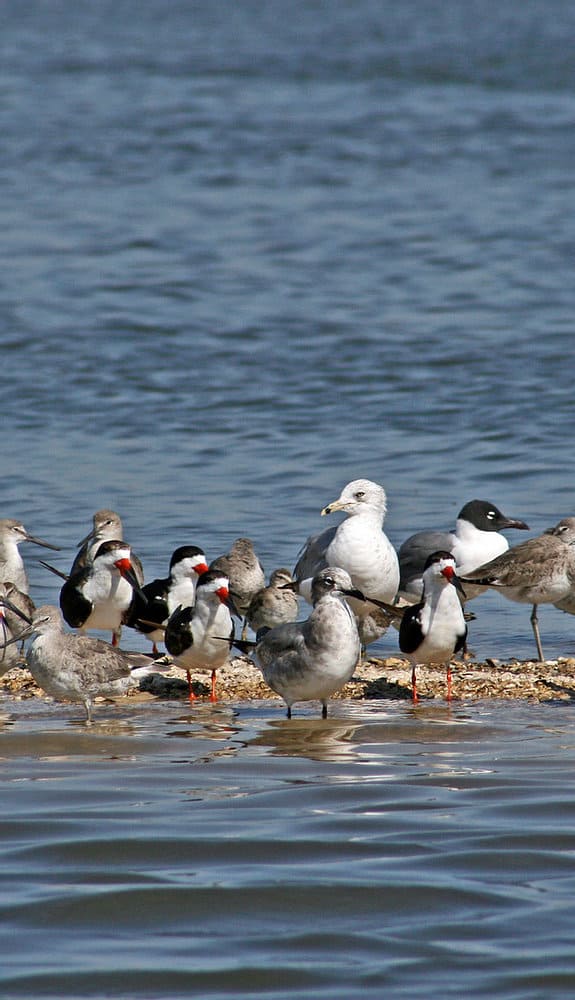 Migratory shorebirds begin arriving in large numbers. Most of these early arrivals have spent their short nesting season in the Arctic Tundra. Upon arrival, and for a short time afterward, these birds are in their more distinctive and more recognizable breeding plumage. On low tides, these birds, along with many of our resident shorebirds (Willets, etc.), scatter about the mud flats and exposed beaches to feed. As tides begin to rise, these birds begin to gather on higher shell bars and remote beaches. The more the tide rises, the more the birds concentrate in fewer areas. This practice sometimes results in astounding numbers of birds huddled in relatively small areas. Our tour routes target these key areas. Common Migratory shorebirds beginning in September: Sanderlings, Black-Bellied Plovers, Semi-Palmated Plovers, Western and Least Sandpipers, Marbled Godwit, Whimbrels, Yellow Legs, Red Knots, Snowy Plovers, Piping Plovers, Ruddy Turnstones and Black Necked Stilts during migration. Resident shorebirds common in September: A large number of Oystercatchers nest here and are year-round residents. They are joined by large numbers of migratory Oystercatchers later in September. Also, Wilsons Plovers nest in these same areas. Also, a large number of Willets are year-round residents.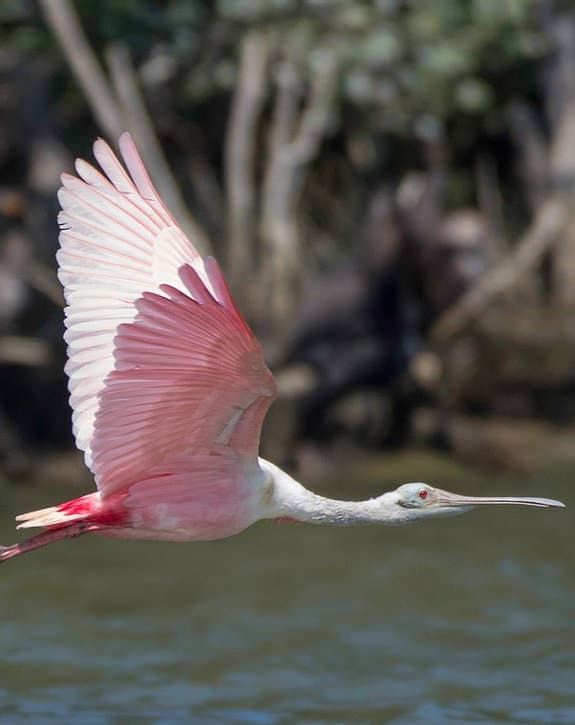 Magnificent Frigate birds and Roseate Spoonbills leave until Spring. Shorebirds and other migratory birds continue to arrive through October and by mid-November the winter population is stable. More birds arrive in November: Dunlin, Avocets, Long Billed Curlew, Piping Plovers, Snowy Plovers, Spotted Sandpipers, Forester Terns, Royal Terns, Sandwich Terns, and Caspian Terns and numerous Black Skimmers. Also, White Pelicans, Common Loons, Horned Grebes, Red-Breasted Mergansers, Buffleheads, and Scaup Ducks are common sightings. Other birds of the Fall through Spring birding season include Bald Eagles, Osprey, Northern Harrier, Peregrine Falcons, Merlin, and Wood Storks. October begins Bald Eagle nesting season.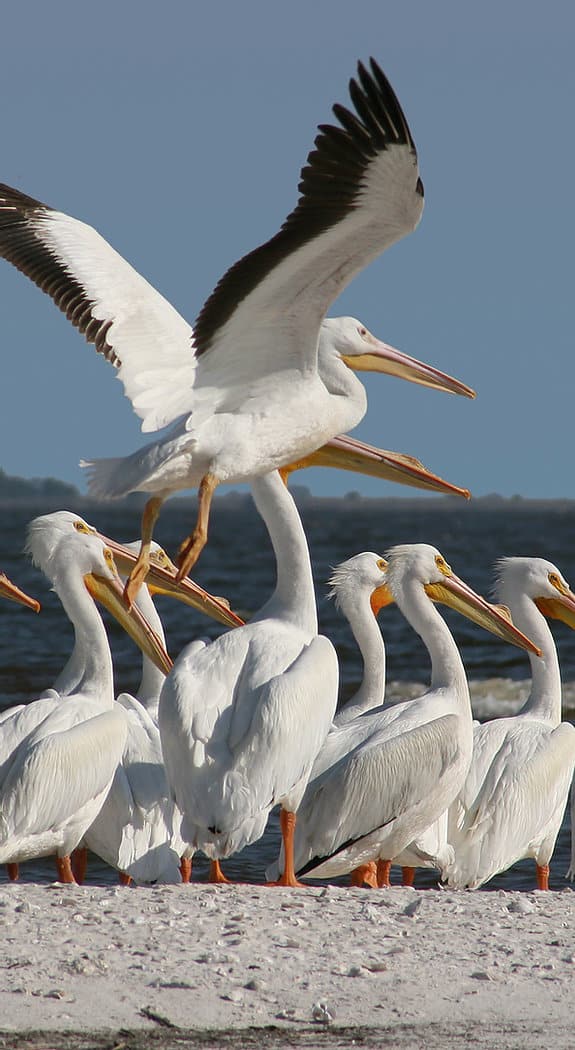 The Cedar Key bird population seems to remain relatively stable from November through February. Beginning in late March, many migratory species begin to leave. These include White Pelicans, Loons, Mergansers, Buffleheads, Grebes, and Avocets.
By late April most of our migratory birds have left, except those bound for the Arctic Tundra; most of our Sanderlings, Turnstones, Sandpipers, and Plovers. These birds, again in breeding plumage, begin to leave in late May.

March also begins the nesting season at the Seahorse Key Rookery. While estimates vary, it is accurate to say that thousands of White Ibis, Great Egrets, Snowy Egrets, Yellow and Black Crowned Night Herons, Tri-Colored Herons, Little Blue Herons, Great Blue Herons, Cormorants and Brown Pelicans nest in the relative safety of this refuge island. Although landing on this island is prohibited from March through June, we can enjoy viewing opportunities by cruising the shoreline, just outside the posted boundaries.

Hundreds of Magnificent Frigate birds begin arriving at Seahorse and Snake Keys by late April and May. Cedar Key is one of the few places in the U.S. to see these birds as it is the farthest North they come. They remain in Cedar Key until late Fall. By late Summer and Fall, the mature male birds begin to "display." This practice involves inflating its bright red throat pouch, usually while roosting in shoreline trees.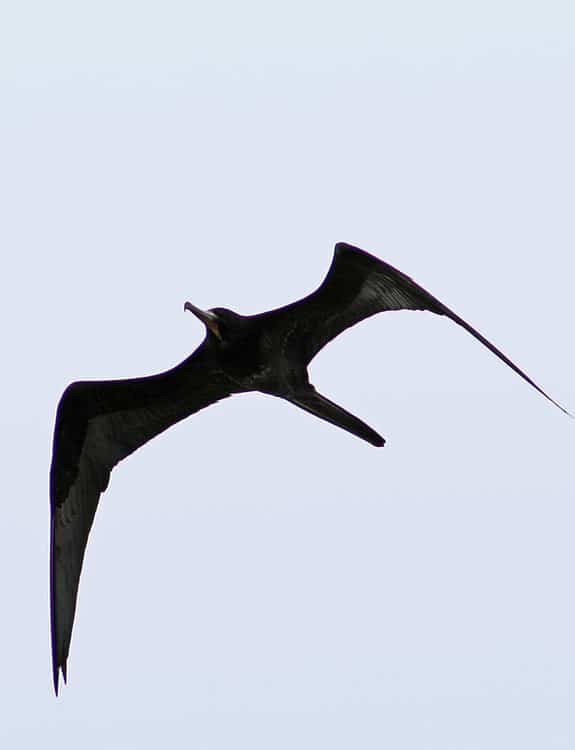 Least Terns make their brief appearance during this short period. Other common summer birds include Osprey, Herons, Egrets, Ibis, Wood Storks, Roseate Spoonbills, Terns, Skimmers and Oystercatchers.
The birds listed are those we see on a fairly regular basis (often in very large numbers).  I occasionally see birds that are not as common, e.g., Masked Booby, Northern Gannett, Sooty Tern, Stilt Sandpipers, and White Herons. Etc.  Please let us know of any unusual sightings you come across in our area.
Many of these birds can be seen on our daily Coastal Tours.  All tour times are affected by tides.
Your Next Adventure Awaits